Reviews
Softpedia
"JIBS" 2.9.0
has been tested in the Softpedia labs using several industry-leading security solutions and found to be completely clean of adware/spyware components.
Certification
Download 2.9.0 from Softpedia
Softpedia dowload stats
Video from FindmySoft
Review Sites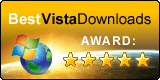 On SourceForge
You can read and write reviews for JIBS on SourceForge.
See SourceForge reviews for JIBS
Older Reviews
This section has reviews I received by email before SourceForge added their review feature.
---
I've just started using a nice little freeware Java image browser. It's really nice and simple and easy to use. It's called JIBS (Java Image Browser Sorter). It lets you rename images in a folder according to their EXIF meta data, de-dupe folders and rename selected images whatever you like. And lets you go through a slideshow at your own pace, and rotate the images 90 degrees simply and without changing the original image. Lovely. I thought you should know about it. Oh, by the way you need Java to run it. But you have Java installed anyway, don't you?
http://antanova.blogspot.com/

Very useful viewer, just what I needed, thanks very much.
adao2001

This program is so good I'd think I'd wrote it myself! (oh, wait a minute, i did...)
gerhardb